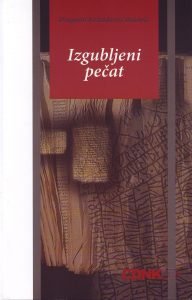 The Lost Seal (Izgubljeni pecat). Cetinje: Crnogorsko drustvo nezavisnih knjizevnika (CDNK), 2008.
Novel / Fiction / Runes / Adventure / Mythical
Designed by Suzana Pajovic
ISBN: 978-86-85735-22-6
Format: Paperback, 161 p.
excerpts
The Department of Dead Letters  (in German)
The Department of Dead Letters  
________________________
The key for understanding the novel The Lost Seal by Dragana Krsenkovic Brkovic, which is composed of three rounds of cyclic narrative, is situated in runes themselves. Runes could also mean a secret letter, the hidden way of communication, and runes as the word itself could be translated as a secret, a whisper (…) These runes' features could be as well attributed to this novel – The Lost Seal is also the search for distant truth, it evokes unconscious in man, along with the hidden knowledge presented for centuries that only the one who is elected can understand.
The Lost Seal is a book with multiply meanings, it is a mystical book which interweaves oneirism, archetypal, unconsciously, and lost in time. Dragana Krsenkovic Brkovic has been took a big step forward from the local with this novel, introducing the spirit of the world trend in the Montenegrin literature, as well as showing that a research material and themes are available to an author wherever she or he is, and at any time she or he lives.
Vujica Ogjenovic, writer
The Quest for Runic Inscriptions
Vijesti, Podgorica, Novembar 28, 2008